The U.S.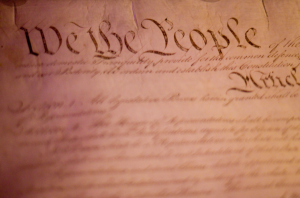 Supreme Court in an 8-1 decision ruled last December that it's possible for a police officer to stop a motorist based on a mistaken understanding of the law without violating that motorist's Fourth Amendment rights.  The case arose from a traffic stop in North Carolina based on a broken brake light. But state law there required only a single working "stop lamp," which the car in question had.
In writing for the Court, Chief Justice John Roberts stated the following:
 In this case, an officer stopped a vehicle because one of its two brake lights was out, but a court later determined that a single working brake light was all the law required. The question presented is whether such a mistake of law can nonetheless give rise to the reasonable suspicion necessary to uphold the seizure under the Fourth Amendment. We hold that it can.

To be reasonable is not to be perfect, and so the Fourth Amendment allows for some mistakes on the part of government officials, giving them fair leeway for enforcing the law in the community's protection.
The facts of Heien v North Carolina are Nicholas Heien and Maynor Javier Vasquez were driving down I-77 through Surry County, North Carolina. Vasquez was driving while Heien napped in the back seat. Officer Matt Darisse of the Surry County Sheriff's Department (Officer) was "observing traffic on the interstate" in order to "look for criminal indicators of drivers" when he noticed Javier Vasquez drive by him. Officer testified that he believed the driver was "stiff and nervous," and followed him in his patrol car.  A few miles passed and the driver stepped on his brake.  Officer saw only one working brake lamp and pulled the car over.  The stop uncovered cocaine in a plastic bag in the rear of the car. The driver was arrested and charged with trafficking in cocaine. There was no ticket for driving with a broken stop lamp because it is lawful to operate a car in North Carolina with such a defect.  The North Carolina Supreme Court, upon hearing the facts, determined that the stop was without legal cause and that there was no violation of law so there was no legal reason to stop the car. The United States Supreme Court, however, ruled otherwise.