Have I been charged with a felony if I received a citation?
TL;DR: No. Could the charge be amended? Yes, but likely won't be.
Contrary to what you may have been told or what is written on your citation, Tennessee law only permit citations to be written for misdemeanor offenses. You can't get a citation for a felony – by law, a felony requires you to be arrested. Bonnaroo is no different, however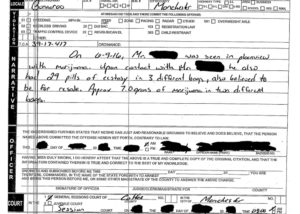 the festival environment has required that law enforcement take a different approach. (Too many people, not enough personnel, etc…) Essentially, most people charged with a drug offense will receive a citation. You are given a court date in General Sessions and the prosecutor will review the case to determine whether felony prosecution is appropriate. By far, the majority of cases will be resolved as misdemeanors in General Sessions court. If the district attorney decides felony prosecution is appropriate, your case will be sent to a grand jury for the charges to be amended, and ultimately into Criminal Court.
If you received a drug citation at Bonnaroo, call our lawyers now to discuss possible outcomes at 615-829-8259 or 931-303-0421.
Below are additional examples of "Felony" Citations our clients have received in the past. Factual circumstances and specific deals are different for every case, however each of these cases were resolved in General Sessions as misdemeanors.